An enhanced version of the standard SAE 37° Flared tube fitting, UltraFlare™ features a PTFE back-up seal in the flared fitting nose cone. The seal is extruded of virgin PTFE® and machined to create an interference fit-in-the-groove, or trepan, in the fitting nose. This trepan is machined parallel to the fitting center line to eliminate the risk of twisting the Teflon® seal out of its seat during assembly. This seal provides more forgiveness in tubing surface imperfections, under flaring and torquing, and higher overall pressure ratings.
Quick Links
Specification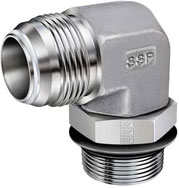 Working Pressure: Vacuum to 9600 psig
Temperature Rating: -100 to 450° F
Body Materials: 316/316L SS, Alloy 400
O-ring Materials: PTFE
Sizes: 1/4 to 2 in. (6mm– 25mm)
End Connections: ORFS, NPT, BSP, SAE, Braze Socket Weld, and Butt Weld
Type 316/316L stainless steel is the standard material on all bodies, nuts and sleeves. PTFE/Teflon® is the standard seal material.
Suggested Applications for UltraFlare™ Tube Fittings
The UltraFlare™ is an extremely good choice in many cases for both new system design, and replacement of existing SAE flared tube fittings. For new system design, the UltraFlare™ offers a superior alternative to a standard SAE Flared fitting through its improved resistance to vibration and sealing reliability. The UltraFlare™ is also more forgiving of assembly irregularities in the shop or field, such as under flared tubing or under-torqued make-ups.
The UltraFlare™ uses standard SAE nuts & sleeves, and is assembled following normal procedures and techniques for SAE flared tube fittings. As such, for companies with an investment in tube flaring equipment and training, the UltraFlare™ represents a superior performing fitting system without the need for new capital equipment or technician training.
In the field, or for system maintenance, UltraFlare™ tube fittings can be substituted for a standard SAE flared fittings for enhanced protection against leakage due to normal system vibration.