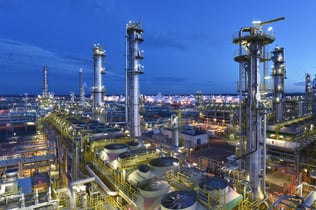 The chemical processing industry is responsible for converting raw materials into chemicals used in a variety of industrial and consumer applications. Due to the nature of the materials handled and conversion processes performed, the equipment and instrumentation components used must be highly durable, corrosion resistant, handle a broad temperature range, and other extreme conditions. Otherwise, there is an increased risk of failure during operations, resulting in downtime and other unwanted consequences, in addition to lower overall process quality. For this reason, ensuring that high-quality instrumentation components—including fittings, valves, tubing, and other system components—are sourced from reputable manufacturers is essential.
At SSP, we have provided instrumentation solutions to customers in the chemical processing industry for nearly 100 years. Our extensive experience enables us to manufacture and distribute products that can withstand some of the most demanding chemical processing applications. Below, we highlight what you need to know about fittings, valves, and tubing for chemical processing applications and the relevant products we have available at SSP.
Types of Fittings, Valves, and Tubing for the Chemical Processing Industry

Chemical processing plants employ various fittings, valves, and tubing in process equipment to facilitate different operations. Some of the most commonly used types include:
Typical Chemical Processing Applications of Fittings, Valves, and Tubing
Valves, fittings, and tubing are used in a wide range of chemical processing applications, including, but not limited to, the following:
Heat Transfer: fluctuations in the temperature of materials to meet specific temperature requirements for different chemical processes.
Evaporative Cooling: relies on recirculating air and moisture evaporation to cool materials and processing equipment.
Evaporation and Drying: reduces the amount of water in or on a material
Distillation: selectively boiling and cooling a liquid mixture to separate a specific component or components.
Mass Separation: adding specialized mass separating agents (MSAs) to facilitate the separation of a material into different components.
Mechanical Separation: separating materials—typically mixed-phase materials—based on differences in size, density, velocity, or other mechanical properties
Mixing: combining different materials in measured amounts to create a more homogeneous substance.
At SSP, our fittings, valves, and tubing are regularly used in the following chemical processing applications but are not limited to the following: Air supply for pneumatic equipment, solenoid valves, and pneumatic valve actuator packages.
Heat trace lines.
Impulse lines for differential pressure cells.
Pressure, temperature, and level transmission lines.


Materials for Chemical Instrumentation Components
Chemical instrumentation components can be made from many different materials depending on the requirements and restrictions of the intended application. Examples of commonly used materials include:
316 Stainless Steel: Characterized by excellent corrosion resistance and durability, this material is perfect for use in chemical instrumentation products.
Brass: Highly durable, anti-bacterial, and workable, brass is an ideal material for components used in sanitary applications.
Special Alloys: Special alloys, such as

Alloy 400/405 (Monel) and C-276

(Hastelloy), exhibit a number of properties that make them useful for chemical processing applications. Examples include corrosion resistance, temperature resistance, and wear resistance.


Contact SSP for Chemical Processing Instrumentation Components
Equipped with nearly a century of experience developing and manufacturing instrumentation components and certifications in a variety of industry standards, SSP has what it takes to provide high-quality product solutions for a wide range of customer needs. Many of our largest and longest supply agreements are in the chemical processing industry. For customers in this and other demanding industries, we offer a guarantee of product quality, performance, and safety, giving them peace of mind that they can rely on our components for their critical applications. All product test reports are available for download here.
To learn more about our product offerings, check out our catalog. To discuss your instrumentation requirements with one of our experts, contact us or request information today.