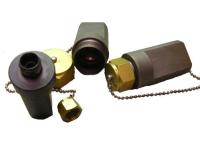 TurnPro Preswaging Tools allow in-field swaging of tube fitting ferrules to tube prior to assembly in the tube fitting. Preswaging is used when it might be difficult to install tube fittings in difficult to reach or confined-space applications.
Features
Compact size
Durable solid steel body
Vise flats
Attached cap protects threads from damage
Sizes are available for 1/4, 3/8, and 1/2 in. tube fitting sizes.
Instructions
Slip the nut and ferrule(s) over the the end of the tubing,
Insert the tubing into the end of the tool.
Finger tighten the nut.
Use a wrench to tighten the nut 1 ¼ turns.
Loosen the nut and remove the tube from the tool. The tubing is now ready to install in the fitting.