SSP provides actuated ball valve packages for SSP EB, FB and TB series ball valves. Actuators are available in 90° and 180° double acting, spring to open, spring to close and spring to center actions with a wide variety of solenoids, limits switches and other accessories to meet your applications' requirements. Packages are engineered with components selected specifically for each valve. SSP can also assemble packages with customer-specified actuators, solenoids, limit switches and other components.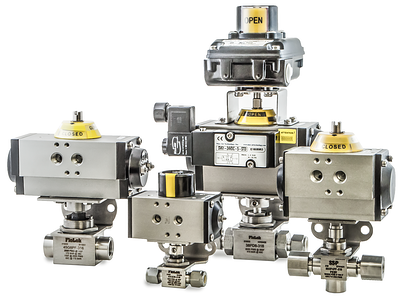 Quick Links
Features
SSP offers a variety of options for automated valve assemblies. We can help you to specify options that will enable your actuated assemblies to meet the requirements of your application. Assembly features include:
Compact Size
90° and 180° dual acting and spring return actuation including a variety of 3-way flow path options.
Anodized, corrosion proof coated aluminum and stainless steel housings
Wide range of solenoids, limit switches and other accessories for hazardous and non-hazardous environments.
Single and dual mounted valve assemblies
Lifetime Limited Warranty
Actuator Options and Accessories
Temperature
SSP actuators are available for high and low temperature applications.
Standard -4 to 176°F (-20 to 80° C)
High temperature -10 to 300°F/350°F cyclical (-23 to 148°C/176°C)
Low temp -49 to 300°F/350°F cyclical (-45 to 148°C/176°C)
Superlow temperature -67 to 300°F/350°F cyclical (-55 to 148°C/176°C)
Dual Mounted Actuated Valve Assemblies
Dual mount (two valves on one actuator) are available for EB series sizes 42 and 43, FB Series size 36 and all TB Series ball valves.
Corrosion Resistant Actuator Housings
Anodized alumimum actuator housings are standard. For harsh environments, SSP also offers stainless steel housings and housings with corrosion resistant coatings.
Solenoid Valves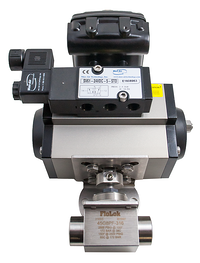 SSP offers actuated ball valve packages with NAMUR solenoid valves.
Options include:
Intrinsically safe and explosion proof.
High temperature
IP67 watertight kit
Stainless steel body
Lighted and molded DIN connectors
Class H coils
ATEX and UL/CSA Certification
Many more.
Limit Switches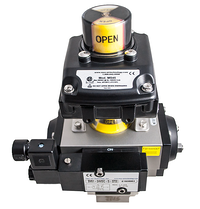 SSP offers limit switches for applications requiring that the position/status of the actuator to be monitored from a remote location. SSP offers NEMA 4-CSA. Type 1, 2, 3, 4, 4X, general purpose watertight and NEC Class 1 (NEMA 7), Division1, Groups C and D, and NEC Class II, (NEMA 9) Division 1, Groups E, F, G watertight and explosion proof switches. Mechanical, Inductive and magnetic reed switches are available.
Other Limit Switch Options
Stainless steel enclosure
Dual Coil 7-8-7-9 circuit board
Customer-Specified Assemblies
SSP will provide actuated ball valve assemblies using customer-specified components. Customers can provide component for assembly, or SSP can source the required products from a wide range of manufacturers.
Testing
All actuated ball valve assemblies are tested for proper function. All valves are factory tested with Nitrogen to 1000 psig (69 bar) at 70°F (20°C).
Warranty
SSP actuated ball valve assemblies are backed by the SSP Lifetime Limited Warranty. This warranty is available from your local distributor or at www.mySSP.com.