EB Series One-Piece Instrumentation Ball Valves are part of the growing family of FloLok instrumentation valves. They are designed for analytical sampling and conditioning systems, control systems, and other medium-pressure applications. EB Series ball valves use one-piece encapsulating packing to ensure leak-tight operation and provide positive shutoff in high- low- and dynamic pressure applications. The encapsulating PTFE packing eliminates dead space to reduce purging time and improve system cleanliness. EB Series ball valves also feature an innovative packing retainer that prevents the stem from blowing out when making inline packing adjustments.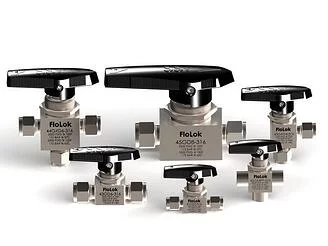 Quick Links
Specifications
MAWP: -65 to 300° F (-53 to 148° C)
Pressure Range: vacuum to 3000 psig (206 bar)
Flow Patterns: 2-way, 3-way, and angle.
Special Patterns: Sample Transfer, 2-way drain/purge, 3-way quarter-turn switching, 3-way tee-flow on/off, and 3-way tee flow switching
Upstream and down stream venting
Body Materials: 316 SS, Alloy 400, C-276 and brass
Orifices: 0.093, 0.125, 0.187, 0.281, and 0.406 in.
Packing Material: Modified PTFE
End Connections Types: Duolok, Unilok and Griplok tube fittings, NPT, BSPT
End Connection Sizes: 1/16 and 3/4 in. (3 to 12 mm Duolok only)
Features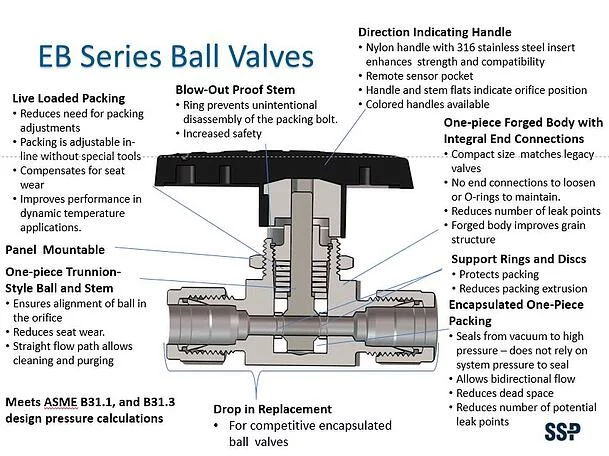 Ball Valve Options and Ordering Information
Tube Fitting End Connections
SSP can provide three tube fitting designs for all FloLok valves without changing the end-to-end dimensions of the valve. Use the designators below to indicate the required design.