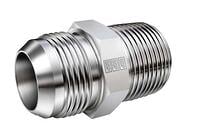 The SAE 37° flared (aka JIC) tube fitting is the most popular configuration of hydraulic fluid connector in North America. While the SAE system is often used for joining tubing in a hydraulic system, it is frequently also used on hose as an end adapter for female SAE swivels, which is the most common and affordable end connection on hydraulic hose assemblies.
Specification
Pressure Rating: Up to 7700 psig (531 bar)
Temperature Range: -425 to 1200°F (-253 to 648°C)
Materials: 316 SS, Alloy 400 and brass
Sizes: 1/8 to 2 in. (6mm to 38mm)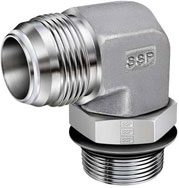 UltraFlare offers a superior alternative to a standard SAE Flared fitting through its improved resistance to vibration and sealing reliability. The UltraFlare is also more forgiving of assembly irregularities in the shop or field, such as under flared tubing or under-torqued make-ups.
Specification
Pressure Rating: Up to 9600 psig (662 bar)
Temperature Range: -100 to 1200°F (-73 to 648°C)
Materials: 316 SS, Alloy 400, Brass
Sizes: 1/8 to 2 in. (6mm to 38mm)