Click to Find Catalogs
PV Series plug valves are designed to provide positive shut-off up to 3000 psig. They provide low-torque, quarter-turn actuation making them an ideal solution where repeated manual actuation is required. Plug valves are compact and lightweight. Their compact size allows them to be mounted close together in distribution manifolds and other applications where space is at a premium.
Quick Links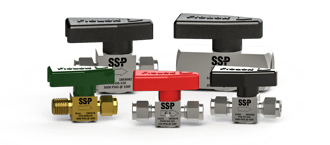 Plug Valve Specifications
Pressure: Industrial vacuum (1 micron) to 3000 psig
Temperature Range: -10 to 400° F
Body Material: 316 SS, Brass
Plug Material: 316 SS, Brass
Orifice Sizes:

PV4: 0.172 in.
PV6: 0.283 in.

O-ring material:

PTFE-Coated Fluorocarbon FKM
Nitrile
Perfluoroelastomer FFKM
Neoprene

End Connections

Sizes: 1/8″ – 1/2″, 6MM (Tube Fitting Only)

Types: Tube fitting, male NPT,
Female NPT, Combinations

Types

Tube fitting (Duolok, Griplok and Unilok
MNPT and FNPT
Plug Valve Features
Quick low-torque quarter-turn actuation
PTFE-coated plug provides low operating torque
Compact one-piece body
Easy Maintenance
Options
Choice of Duolok®, Unilok®, Griplok® tube fitting and TruFit® NPTpipe end connections
Downstream vented valves
Colored Handles
One-piece stainless steel handle and plugs
Duolok, Griplok and Unilok Tube Ends
Stainless Steel and Aluminum Locking Devices
Special Cleaning
Plug Valve Applications
Quarter-turn plug valves are used in a wide range of industries. Low torque makes them a favorite for applications requiring frequent manual actuation. They can be used as isolation valves and vent valves in to control valves, in laboratories for air systems, gas selection manifolds, gauge isolation, and drain valves. They can often be a less costly alternative to pipe ended ball valves.
Quarter-turn plug valves are designed to allow throttling to control flow and to create "soft" actuation in systems where designers desire both the softer application provided by needle valves with the quarter turn simplicity and higher flow of a ball valve.
Plug valves are available with a downstream vent to safely isolate the pressure source vent the downstream pressure so that devices such as pneumatically operated spring return valve package can be maintained more safely.