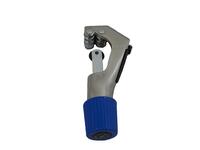 TurnPro Tube Cutters are specifically designed for cutting stainless steel, Alloy 400, Alloy C-276 and other hardened steel tubing from 1/8 to 1 1/8 in. (4 to 28mm). They deliver smooth, spiral-free tubing cutting in an compact, high-cycle tool.
Quick Links
Key benefits
Smooth, precise, spiral-free, tube cutting
Compact swing radius
Trouble-free, high-cycle operation
Easy Maintenance
Features
Lightweight and Durable
Lightweight chrome plated steel body for stability and durability
Durable low gloss black wrinkle finish for improved grip and wear resistance.
Unique Anti-Spiral Rollers
Eliminates spiraling for precise right angle cuts
Flare cut-off groove reduces tube loss when damaged flare is removed
Enclosed hardened steel, thrust bearing feed mechanism
Produces smooth operation for clean accurate cuts
Self-cleaning burr removal groove protects feed mechanism for trouble-free operation
Chromium steel cutter wheels for accurate cutting and long life
Designed to cut stainless steel, Alloy 400 or other hardened alloy tubing.
One-piece screw-type axle for easy access to cutting wheel – no clip to lose or replace.
Each tool is supplied with a spare cutter wheel.
100% factory tested to ensure accurate spiral-free cutting