Nav-Sea fittings incorporate our P-type O-ring face seal design. This design meets the requirements of Naval Bureau of Ships (BuShips) 810 series drawings for fluid and gas service up to 3,000 psi. This fitting system is also widely used in general industry and test laboratory environments to system pressures limited by the specifications connected tubing. The SSP Nav-Sea series can be used interchangeably with the CPV Mark VIII Series.
Quick Links
Select Nav-Sea O-ring face seal fittings for your applications.
Download Industrial Fitting Catalog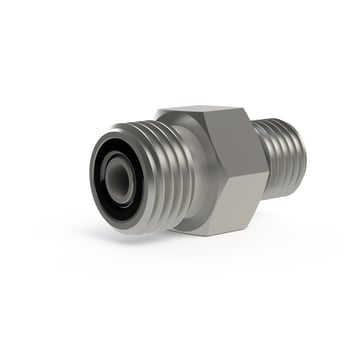 Specifications
Working Pressure: Vacuum to 6000 psig
Temperature Rating:

Nitrile/Buna: -30° to 250°F
Viton: -15° to 400°F

Body Materials: 316/316L SS, Alloy 400, Brass
O-ring Materials: Buna (Standard), FKM
Sizes: 1/8 to 2 in.
End Connections: ORFS, NPT, BSP, SAE, Pipe Swivel
Shapes: Straight, Elbows, Tees, Bulkheads


Design
Soft-Seal O-ring Face Seal tube and pipe fittings seal fluids and gases at very high pressures and vacuum. Each features a high durometer o-ring held in a precision-machined groove in the fitting body. This elastomeric seal prevents fluids and gases from leaking.
The Soft Seal fitting assembly consists of four parts: threaded fitting body with o-ring groove, o-ring, nut, and sleeve or tailpiece. The standard o-ring is Buna-N. Other o-rings have been tested and are available for special applications.
The fitting assembly seals when the bottom of the sleeve or tailpiece, which has been fixed to the tubing, compresses the o-ring in the face of the threaded fitting body as the fitting nut is threaded onto the external threads on the fitting body. The threading process draws the sleeve into full contact with the face of the fitting. Sleeves or tailpieces can be secured to the tubing either by brazing, welding, or mechanically flanging the tubing.
Extremely reliable in high-vibration and dynamic pressures and temperatures
Zero clearance enables fast installation and make system maintenance faster and easier
Unlimited assembly and reassembly
Materials
Type 316 stainless steel is the standard material on all bodies and nuts. Type 316L (low carbon) is used for sleeves / tailpieces. Buna-N is the standard o-ring material.
Suggested Applications for Nav-Sea O-Ring Face Seal Fittings
Soft-Seal tube & pipe fittings are very versatile fluid connectors because they work exceptionally well on both fluids and gases. After securing the sleeve onto the tube or pipe, it is then extremely easy to install. The fitting is also a "zero clearance" system, meaning you don't need to spring or pull the tubing to seat the fitting, or purge the system. This tube fitting can be disassembled and reassembled many times. Simply replace the o-ring and tighten to recommended torque. The elastomer soft-seal conforms well to irregularities in the fitting face or sleeve. So, while proper technique and handling should be observed during assembly, the tube fitting is forgiving of assembly variation.
ORFS tube and pipe fittings are highly recommended on high vibration systems because the soft-seal absorbs shock better than any metal-to-metal sealing system.
While the SAE Soft-Seal was originated for use in off-road construction machinery, it is gaining popularity in other transportation-related applications such as alternative fuel systems (CNG/LPG) for vehicles. It is endorsed by ISO Technical Committee 131 for all new hydraulic system design.
Commercial and Naval Shipping
Naval Bureau of Ships (BuShips) 810 series
Off-road construction and mining hydraulic equipment
Test Laboratories
CNG vehicles and Filling Stations