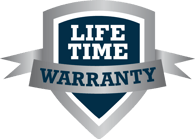 SSP guarantees all product to be free from defects in materials and workmanship. Additionally, SSP guarantees product performance to the published catalog specifications when properly installed according to the catalog selection and installation instructions. To initiate a warranty claim, suspected defective product must be returned to SSP with the nature of potential defect documented for factory evaluation. Any product with a determined defect in material or workmanship will be replaced with equivalent product at no charge.
This warranty comprises the sole and entire warranty pertaining to items provided hereunder. There is no other warranty, guarantee, express or implied representation of any kind whatsoever. All other warranties including, but not limited to, merchantability and fitness for purpose, whether express, implied, or arising by operation of law, course of dealing, or trade usage are hereby disclaimed.
There are no warranties which extend beyond the description on the face hereof; and this warranty does not apply in cases of abuse, mishandling, or normal use depreciation. In no event, whether alleged to arise from breach of contract, express or implied warranty, by operation of law, negligence or otherwise, will SSP be liable for any incidental, consequential, lost property, or other special damages of any kind whatsoever. The exclusive, only remedy under this warranty is the replacement of determined defective parts as set forth above.