Features:
SSP field attachable fittings consist of two pieces: the insert and the socket, or collar. The insert has machined threads along the outer diameter, which engage the socket during assembly. The socket has deep-tapped inner threads, which allow the hose cover to expand so that sharp lead threads can cut a spiral path into the hose jacket. Following the lead threads are spaced blunt threads that fill with the outer rubber cover of the hose during assembly. All inserts have SSP's exclusive impregnated "Easy-On" coating, which reduces the amount of torque required during assembly and increases the reusability of the fitting.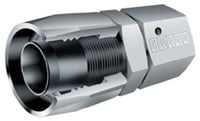 Field attachable hydraulic hose fittings are designed to enable repair and replacement in the field with minimal downtime. SSP regularly tests our field attachable hose fittings to industry specifications on hose certified to published standards of the Society of Automotive Engineers. Teflon Teflon field attachable fittings are three-piece fittings that include an insert, ferrule and socket, or collar. The insert is installed inside the Teflon hose tube, and the ferrule is wedged over the tube and under the stainless steel braid. The socket then slides over the stainless braid and over the body. While threading, the internal tap threads on the socket compress against the ferrule, driving it into the Teflon tube; the insert supports the soft Teflon tube. Field attachable Teflon hose fittings are designed for use in higher purity or temperature environments where a rubber tube hose product is not specified, applications where higher flow rates are sought, and manufacturing environments with frequent unscheduled maintenance. Push-On Push-On field attachable hose fittings are one piece fittings manufactured from T316 stainless steel, for use in low-pressure systems. The H802 series also feature a blue plastic hose stop, which is slipped over the barbs to give the installed assembly a clean, fitted appearance. One end of the fitting features barbs or serrations, both have a high surface finish (32 microinches or better) to ensure a clean, smooth-sealing surface. SSP recommends banding the hose or tubing around the middle to top barbs to avoid a blow-off or leak for all fittings except the H802 series, which does not require banding. Field attachable push-on hose fittings cover a broad range of applications. From flexible tubing for pharmaceuticals to suction lines in chemical transfer systems, the appropriate style of fitting is indicated by the hose or tubing selected for the application.
All hydraulic hose fittings are 316SS. Many configurations also stocked in Monel. All push-on hose fittings are 316SS. Teflon Hose Fittings: To order 303SS add suffix "-C" to SSP Part Number. To order Brass add suffix "-B" to SSP Part Number.