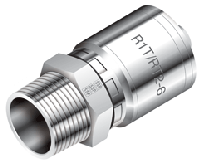 Hydraulok hydraulic fittings are one-piece fittings manufactured from 316 stainless steel. They are designed to work with SAE 100R1AT, SAE 100R2AT, and SAE 100R16 hydraulic hose in a range of operating conditions. The design features deep tapped inner threads in the collar that grip the outer rubber cover of the hose when the fitting is correctly crimped onto the hose. The short collar design, combined with the rigid insert, allows for a clean single crimp finish.
Hydraulic Hydraulok fittings are durable and dependable corrosion-resistant fittings often used in marine, oil, gas, critical application and defense industries.
Teflon
Hydraulok Teflon hose fittings are one-piece fittings manufactured from 316 stainless steel. They are designed to work with SAE 100R14 hose in an extensive range of temperatures and applications. The short collar design assures ease of hose insertion for quick and efficient assemblies. The collar slides over the stainless steel outer braid of the hose while the insert supports the soft Teflon inner tube. The crimping action secures the hose between the collar and the insert to create a clean finish. Teflon Hydraulok fittings are designed for higher purity or temperature environments and water-, synthetic- and petroleum-based hydraulic fluid applications.
Thermoplastic
Hydraulok thermoplastic one-piece fittings are manufactured from 316 stainless steel. Designed to work with SAE 100R7/100R8 hose in a variety of high-pressure applications, Hydraulok thermoplastic hose fittings are easily assembled for crimping. The weather-resistant thermoplastic hose cover, combined with the non-corrosive attributes of the fittings, creates a flexible assembly for a range of conditions. Thermoplastic Hydraulok hose fittings are often found in hydraulics systems, mobile equipment, and high-pressure pneumatic systems.
Metal
Hydraulok metal hose fittings are one-piece designed fittings made from T316L low carbon stainless steel with an integral hex body. The hex provides a surface for applying a wrench during installation. This feature helps users avoid premature fatigue failure of the hose assembly caused by torquing the hose during installation. The butt weld design features a tapered boss surface to provide ample surface area for welding filler material. The butt weld also has a significant wall thickness to avoid burning through the wall during welding. Metal Hydraulok hose fittings are used with high-pressure or low-pressure flex metal hoses in extremely corrosive environments for chemical or water transfer. They are also used in high temperature environments for low- and medium-pressure hydraulics, and for liquid or gas transfer in cryogenic systems.