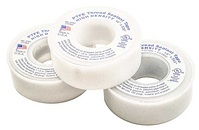 The TurnPro Pipe Thread Sealant is for use on male tapered pipe threads. PTFE tape enhances sealing by filling any voids in the threads and reduces the potential for galling or seizing if the threads are forced together by over-tightening.
Quick Links
TurnPro PTFE Tape
Industrial-strength, standard-density PTFE tape.
Seals against most chemicals; water, oils, solvents, gases, oxygen and compressed air.
Made with 100% virgin PTFE.
Can be used on oxygen.
Meets Mil Spec AA-58092.
Temp. Range: -400°F to 450°F (-240°C to 232°C).