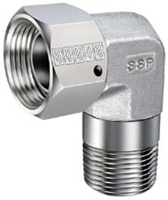 Pipe swivels are female adapters featuring a nut with a straight thread captured on a 30° cone tapered gland. A seal occurs between the taper in the male fittiPipe Swivel fitting male elbow ng and the 30° cone tapered gland. Pipe swivels are for use with male tapered pipe thread hose fittings with a 30° seat. Pipe Swivels do not seal on the thread-like most pipe threads; they seal on the nose of the swivel and the seat of the male tapered pipe thread. This creates a metal-to-metal seal. The Pipe Swivel Fitting is first installed in the mating component. Then the hose fitting is connected to the swivel nut. The swivel nut rotates so the hose does not.
Quick Links
Specifications
MAWP: Up to 6000 psig (413 bar)
Temperature Range: -425 to 1200°F
Body Material: 316 SS, Alloy 400.
End Connection

Sizes: 1/4 to 2 in.
Adapter types: MNPT, FNPT, SAE
Shapes: Straights, 90° elbows, 45° elbows, tees, unions, adapters, connectors.
Suggested Applications for Pipe Swivels
Pipe Swivels should be used as hose adapters only. For joining pipe, tubing, valves or other sytem components, other connection technologies should be used.