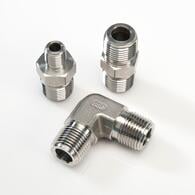 TruFit® pipe fittings, weld fittings, and adapter fittings are designed and manufactured to provide reliable connections in instrumentation and process piping systems. 316 SS, brass, C-276 and Alloy 400 and stainless steel pipe fittings are standard. Other alloys are available on request. TruFit pipe, weld, and adapter fittings are functionally interchangeable with Swagelok®, Cajon®, Parker®, and Hoke® instrumentation fittings.
Quick Links
Select TruFit Pipe Fittings for your applications
Download the complete Trufit Pipe Fitting and Weld Fitting Catalog
Specification
MAWP

NPT Thread: Up to 11,000
SAE Thread: Up to 6000
Weld Ends: Up to 15,000

Temperature Range:

NPT/BSPT Thread Fittings

Stainless Steel: -425 to 1200°F
Alloy 400: -40 to 400°F

SAE/BSPP Fittings(O-ring material)

NBR: -40 to 250°F
FKM: -15 to 400°F

Materials: 316 SS, Alloy 400, Alloy C-276 and Brass
End Connection Sizes:

NPT Thread /BSPT Thread : 1/16 to 2 in.
SAE Straight Thread: #4 to #32

End Connection Types

Straight, 90° and 45° elbows, tees, nipples, couplings, adapters, mud daubers, BSPP and BSPT thread adapters, AN adapters, NPT thread reducers and more.