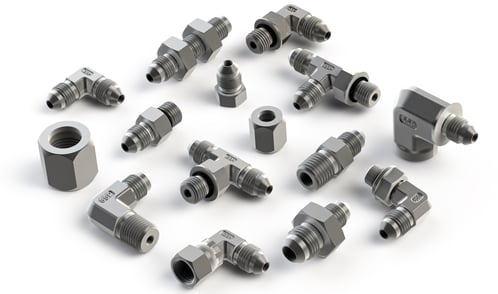 The SAE 37° flared (aka JIC) tube fitting is the most popular configuration of hydraulic fluid connectors in North America. SAE flared tube fittings are available for inch and metric tubing. Metric assemblies are constructed with standard inch bodies, and special nuts and sleeves designed for metric tubing
Quick Links
Click Here for JIC flared fittings
Download Industrial Fitting Catalog
Specifications
Pressure Rating: Up to 7700 psig (531 bar)
Temperature Range: -425 to 1200°F (-253 to 648°C)
Materials: 316 SS, Alloy 400, and brass
Sizes: 1/8 to 2 in. (6mm to 38mm)
Design
The SAE 37° Flared tube fitting system (aka. "JIC") consists of three components to make a tubing assembly: body, nut, and sleeve. The SAE flared tube fitting relies on metal-to-metal contact between the finished surface of the fitting nose and the inside diameter of the flared tubing to make a seal. SSP takes great care in the manufacturing process to produce a flared nose surface that far exceeds published specifications. This high finish reduces the likelihood of leakage due to irregularities in the flared tubing. As the fitting nose and flared tubing are drawn together, they are supported by the fitting sleeve, which distributes the compressing load caused by the nut as it is threaded onto the fitting body during assembly.
Materials
Stainless steel SAE flared tube fittings are manufactured from Type 316/316L stainless steel. Brass SAE flared tube fittings are manufactured from CA377 forging brass, and CA360 & CA345 machining brass. Monel SAE flared tube fittings are manufactured from the 405 grade of this copper-nickel alloy.
Applications
While the SAE system is often used for joining tubing in a hydraulic system, it is frequently also used on flexible plumbing systems (hose) as an end adapter for female SAE swivels, which is the most common – and affordable – end connection on hydraulic hose assemblies.