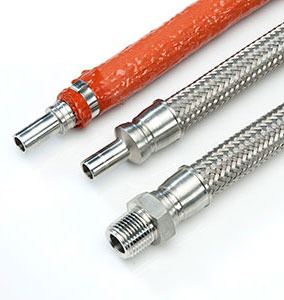 TruFit FL series PTFE-lined hose material conforms to FDA regulations for contact with food, water, and other beverages. FL series R14 hose is constructed maintain maximum concentricity, and reinforced with a single stainless steel outer braid for high pressure service. FL hose assemblies come fully assembled, 100% pressure tested, cleaned, and individually bagged.
Select PTFE-lined hose for your applications.
Quick Links
Specifications
Pressure Range: Vacuum to 3,100 psig
Temperature Range: -65° F to 400° F
Hose

Core Material: Extruded PTFE 0.40" wall
Braiding: Stainless Steel
Hose Sizes: 1/4 to 1 in.

End Connections

Material: 316 SS
Types

Male NPT
Female 37° SAE Flared
Duolok, Griplok and Unilok Tube Fittings and Tube Adapters

Sizes: 1/4 to 1 in.