4000 series check valves are ball-poppet type check valves used to eliminate back flow or to maintain constant back-pressure in instrument, utility, and small process systems and equipment. The self-cleaning ball poppet design inhibits the poppet from sticking to the valve seat for more reliable cracking and resealing.
Select ball poppet check valves for your applications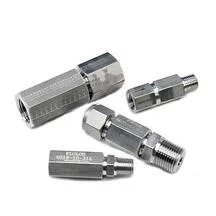 Specifications
MAWP: Up to 6000 psig (413 bar)
Temperature: Up to 350° F (176° C)
Body Materials: 316 SS
Cracking Pressures: 1/3, 1, 5, 10, 15, 25, 50 psig
Seat Material: Fluorocarbon FKM, and NBR
Ball Material: 316 SS
End Connections: Duolok, Griplok, Unilok tube ends, male and female NPT and BSPT and SAE pipe ends
End Connection Sizes: 1/8 to 1/2 in. (6 to 12 mm Duolok only)
Orifice Sizes: 0.09, .019, 0.28 in.
Features