CP Series check valves are fixed cracking pressure, pipe ended check valves used to control back flow or to maintain constant back pressure. CP Series check valves are with factory set and and tested cracking pressurs up to 100 psig (6.9 bar).
Select CP Series Check Valves for your applications.
Specifications
MAWP: Up to 3000 psig (206 bar)
Temperature: -40 to 375° F (-40 to 190° C)
Flow Coefficient: 0.35 and 1.20
Body Materials: 316 SS, Alloy 400, and Brass. Other materials are available.
Seat Materials: Fluorocarbon FKM, Nitrile, low-temperature Nitrile, Ethylene Propylene, and Perfluoroelastomer
Cracking Pressures: 1/3 to 100 psig
End Connections: Male and female NPT and BSPT
End Connection Sizes: 1/4 and 1/2 in.
Features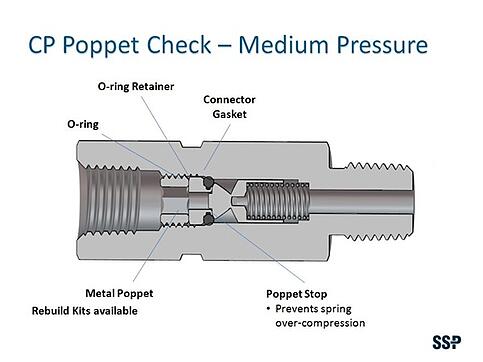 Testing
Check valves are 100% factory tested with Nitrogen after assembly to confirm spring cracking pressure, and for seat leakage at 1000 psig.