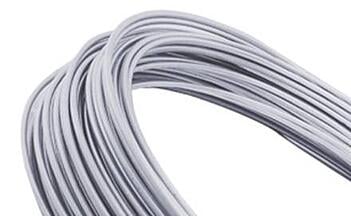 SSP offers stainless steel coiled tubing in sizes from 1/4 to 1/2 in. and wall thickness from 0.035 to 0.049 in. SSP coiled tubing is available in lengths up to 2300 feet, which is up to 30% long than traditional offerings. In addition, SSP offers less than reel quantities of coiled tubing. Stainless steel tube straighteners make coiled tubing installation faster and easier
Select stainless steel coiled tubing for your applications.
Quick Links
Key Benefits
Improved system safety and reliability – Restricted tolerance controls yield superior sealing performance.
Xtreme™ length – up to 30% longer continuous length compared to competitive options
Significantly reduced installation costs – Installing continuous-length,seamless CNG Tubing takes much less time and effort than welding lengths of stick tubing.
Improved system safety and reliability – Using one continuous run of tubing eliminates potential leak points.
Product Identification – Wall thickness, maximum allowable pressure, tubing size and thickness are clearly printed on the layline of the tube. This allows installers to identify the correct tubing used in their application.
Better Corrosion resistance – With a 2.5% min. moly. CNG Plus tubing has superior corrosion resistance over standard stainless steel tubing.
Traceability – All material is fully heat and lot traceable, allowing us to track products from raw material to finished goods.
100% testing for reliability and safer installation – Every foot of CNG Plus Tubing undergoes 100% hydrostatic testing and positive material identification.
Specifications – Restricted Tolerance Controls
OD Tolerance: +0.005/-0 in.
Hardness: Maximum 80 HRB (Rockwell)
Wall Thickness: ±10%
Chemistry: Min. 2.5% Molybdenum
Certifications
ASTM A269, Standard Specification for Seamless and Welded Austenitic Stainless Steel Tubing for General Service
ASTM A213, Standard Specification for Seamless Ferritic and Austenitic Alloy-Steel Boiler, Superheater, and Heat-Exchanger Tube
Pressure Equipment Directive (PED) 97/23/EC
ISO 9001
NACE MR0175
EN 10204 3.1